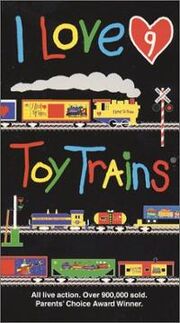 This is the 9th video in TM's
I Love Toy Trains
series.
Dixieland Opening
I Love Toy Trains Opening Theme
Legends Of The Rails
Toy Train Hall Of Fame (Extended)
I Love Toy Trains Closing Theme
Several Instrumental Peices
Toy Train Hall Of Fame
Edit
American Flyer Mayflower
American Flyer 2-Tone Blue President's Special
Lionel Blue Comet
Ives Circus Train
Lionel State Set 
Dick Brown's layout was seen before in I Love Toy Trains: The Music Video.
Pokémon Trading Cards are mentioned.
Sparks can be seen then the Northern Pacific deisel is running fast.
Some rare color footage of the Dreyfuss Hudson can be seen when Jeff talks about the Hudson.
The Newscaster's voice is actually Tom McComas' voice.
 Jeff's phone is outdated =3.
This is the first video to have the Toy Train Hall Of Fame.
The Toy Train Hall Of Fame song is extended to include lines about this episode's inductees.
Ad blocker interference detected!
Wikia is a free-to-use site that makes money from advertising. We have a modified experience for viewers using ad blockers

Wikia is not accessible if you've made further modifications. Remove the custom ad blocker rule(s) and the page will load as expected.