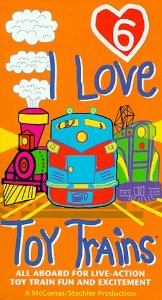 I Love Toy Trains
series
Dixieland Opening
I Love Toy Trains Opening Theme
Wooden Train
Animal Train
Layin' Down Those Railroad Ties
Hard Working Crane
Build A Bridge
I Love Toy Trains Closing Theme
Various Instrumental Peices
Trivia and Goofs
Edit
Jeff says that they haven't talked about Electric Locomotives on the show, but they were talked about in I Love Toy Trains 4.
The Lionel GG1 appears to stop sometimes, probably due to short circuts on the Cantinary.
Not all Electric Locos use a Cantinary System.
This is the only video to use T.C. Timber Trains.
A majortiy of the Animal Train song is filmed on TM's Standerd Gauge layout.
In the CD version of Animal Train, the Lyric about Giraffes is replaced by one about Monkeys.
Sparks can be seen when some cranes lift a Hopper.
This is the only time Mark Twain is mentioned.
Ad blocker interference detected!
Wikia is a free-to-use site that makes money from advertising. We have a modified experience for viewers using ad blockers

Wikia is not accessible if you've made further modifications. Remove the custom ad blocker rule(s) and the page will load as expected.