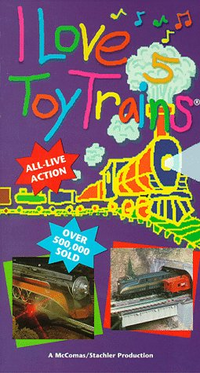 This is the 5th video in TM's I Love Toy Trains series.
Dixieland Opening
I Love Toy Trains Opening Theme
Old McDonald Had A Train
Fidgety Feet
This Train
Down At The Station
I Love Toy Trains Closing Theme 
Ain't It Great To Be Crazy (several times before the Buster Segments)
Various Instrumental Peices
Trivia and Goofs
Edit
This is the first time of a couple things:

The first time video to be narrated by Jeff McComas.
T

he first time the gauge of the toy trains is mentioned. Furthermore, this is the first time the makers of (Lionel, LGB, Ives, and American Flyer, MTH, etc.) are mentioned.

In Oh No!, Jeff plays the dispatcher for the Buster crash scenes, but in this video, the dispatcher for the Buster crash scenes is played by Joseph Stachler.
The lights in the Hiawatha's coaches are flickering at some points.
When at the sawmill, the edge of the set can be seen.
Mr. Rooster and Mr. Robot are out of scale.
Ad blocker interference detected!
Wikia is a free-to-use site that makes money from advertising. We have a modified experience for viewers using ad blockers

Wikia is not accessible if you've made further modifications. Remove the custom ad blocker rule(s) and the page will load as expected.