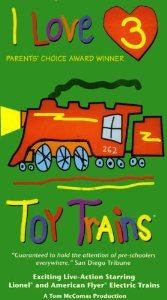 This is the third video in TM's I Love Toy Trains Series.
I Love Toy Trains Opening Theme (Later versions)
I've Been Working On The Railroad
Old Number 7
She'll Be Coming 'Round The Mountain
Awesome Train Song (1994 and 1997 VHS's only.)
Wabash Cannonball (2000 VHS, 2002, 2005 and 2013 Special Edition DVD's) (On the 2007 DVD, it has a different arrangement.)
Off We Go Into the Wild Blue Yonder (Blue Angels Theme)
Daddy, What's a Train?
I Love Toy Trains Closing Theme (Later versions)
Various instrumental pieces
This video and I Love Toy Trains 2 are the only videos not to use the Dixieland Opening. 
This was the first and only time to have the Blue Angels appear in I Love Toy Trains.
This was the first I Love Toy Trains video to feature Jeff speaking.
This is the last time a song not by James Coffey is heard in the series (On the original 1994 VHS only).
Some of the scenes from the original version have been switched around on the later versions.
On the 1994 VHS, the credits are different, but in later versions, it replaces the original credits with the James Coffey version of the I Love Toy Trains closing theme.