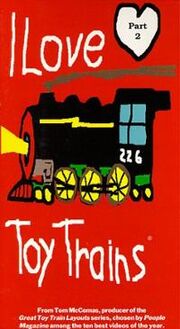 The second video in the "I Love Toy Trains" series
I Love Toy Trains Opening Theme (Later versions)
Toy Train Revue
Symphony No. 5 - I. Allegro con brio (Later versions)
I've Been Working On The Railroad
I'm A Train (Later versions)
The Wonderful World Of Trains (Later versions)
Trepak (Russian Dance) (Later versions)
Stars and Stripes Forever
I Love Toy Trains Closing Theme (Later versions)
Various Instramental Pieces
This video and I Love Toy Trains 3 are the only videos not to use the Dixieland Opening. 
On later versions, the "Wonderful World Of Trains" music video mostly uses footage from old Lionel commercials.
On the 1994 VHS, the closing credits are different, but in later versions, it replaces the original credits with the James Coffey version of the Love Toy Trains closing theme.
Ad blocker interference detected!
Wikia is a free-to-use site that makes money from advertising. We have a modified experience for viewers using ad blockers

Wikia is not accessible if you've made further modifications. Remove the custom ad blocker rule(s) and the page will load as expected.