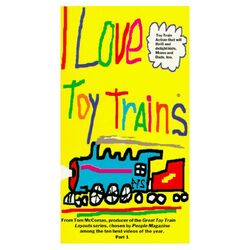 This is the 1st video in TM's
I Love Toy Trains
video series.
I Love Toy Trains was a video made by Tom McComas of TM Books and Video for his son, Jeff, who later started narrating the series. It was later released to the public as "I Love Toy Trains" on VHS in 1993.
The video was a success, and the staff at TM made a sequel, and another sequel, and so on.
Dixieland Opening
I Love Toy Trains Opening Theme (later versions)
Toy Train Revue
Country Jamboree
Old No. 7
Wabash Cannonball
Stars and Stripes Forever
I Love Toy Trains Closing Theme (Later versions
Music Effects
Various Instrumental Pieces
Old McDonald Had A Farm, Old McDonald Had A Train, I've Been Working On The Railroad, and Twinkle Twinkle Little Star were in the video, but sung by children.
This is the only video to have songs sung by children without being accompanied by any adults or background music.
On the 1993 VHS, the credits are different, but in later versions, it replaces the original credits with the James Coffey version of the I Love Toy Trains closing theme.
On the 2000 VHS and later versions onwards, after the instrumental piece (which is called "Country Jamboree"), the train crash and the witch were replaced with footage of a Lionel Chesapeake & Ohio Allegheny from 1999. First in that scene a man says, "CO1601 you are clear." Then, a muffled voice says something. Then a

bell

is heard. Then a whistle is heard. Then, the Allegheny chugs out of the station pulling some freight cars. It's possible that the crash and witch were changed for both being scary.